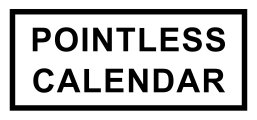 The Perpetual Pointless Calendar - The Ultimate Unusual Gift Calendar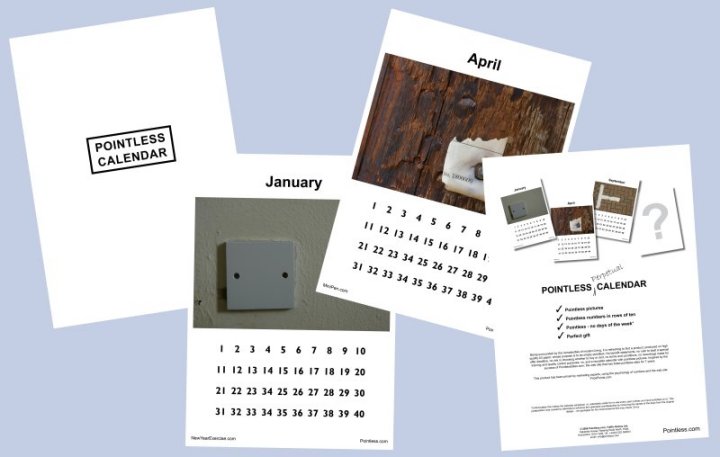 Pointless pictures


Pointless numbers in rows of ten


Pointless - no days of the week *


Perfect gift

An "Off the Wall" idea - to hang on the wall.
Britains most Boring Website - It's official - Article
Surrounded by the complexities of modern life, it is refreshing and unusual to find a product,
produced on high quality A3 paper, whose purpose is to be simply pointless.
No benefit statements, no rush to beat a special offer deadline, no risk in choosing whether to buy or rent,
no terms and conditions, no recordings made for training and quality control purposes,
no, just a reusable calendar with pointless pictures.
Inspired by the success of PointlessSites.com, the web site that has listed unusual pointless sites for 7 years.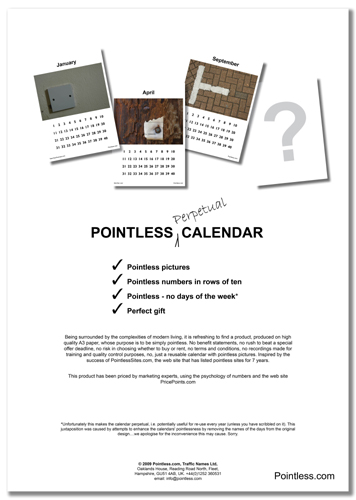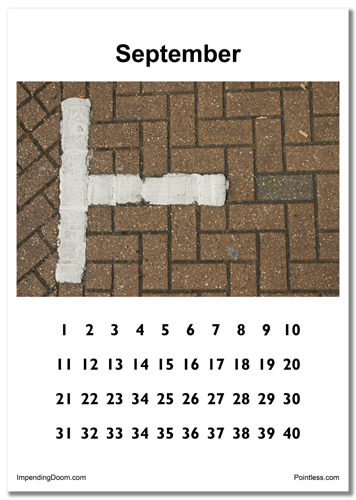 Perpetual - Use forever, use any time of the year, reuse each year

* This makes the calendar perpetual,
i.e. potentially useful for reuse every year (unless you have scribbled on it).
This juxtaposition was caused by attempts to enhance the calendars' pointlessness
by removing the names of the days from the original design....

The Ultimate UNUSUAL GIFT
This product has been priced by marketing experts, using the psychology of numbers and the web site PricePoints.com

The talking point of your Wall....

NORMALLY £14.95 Each
SPECIAL PRICE UNTIL THE SKY CAVES IN: £9.95
The special price saves you - few only now left - Available now for shipping worldwide

Order online: Amazon.co.uk , eBay store or PacksAndCards.com
- You can't ignore it forever - some people just wont get it - Don't be one of them


Have any idea for an interesting promotion? Creative uses for the PC? Interested in distribution? email: sales@PointlessSites.com
(c) 2001 - 2017 Traffic Names Limited, Oaklands House, Reading Road North, Fleet, Hampshire, UK.
Tel: UK 01252 360531 World: +44 1252 360531 Fax: UK 01252 620519 World +44 1252 620519